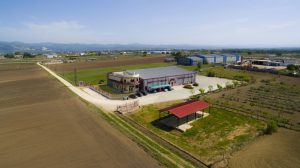 The arched Aluminium & PVC frames company ARCH WINDOWS was founded by George Xanthopoulos in 1991, based in Imeros, Komotini in the Rodopi district for the manufacture of aluminium doors and windows.
In 1996, our love for detailed construction and our enthusiasm for something new in the construction industry, led us to more complex and specialized creations. So we became active in the manufacture of arched and circular aluminium frames, atriums and curtain walls, which met a great success and spread our business throughout Greece.
Our excellent cooperation with our customers, superior and quick manufacture, prompt service and our specialised staff, resulted in our rapid recognition in the industry. This was helped by the continuous renewal of our equipment, which enabled us to manufacture curved frames, such as the Energy Upgrade Aluminium Systems, with large cross-section insulated profiles featuring wide polyamide and high thermal insulation performance.
The construction of atriums, curtain walls and windows provided our customers to choose designs themselves.
In 2004 the company XANTHOPOULOS GEORGE, following a trend for growth and with experience in special aluminium structures, also invested in the manufacture of curved PVC frames, an excellent construction and insulation material, by equipping with new machinery.
In 2008 the company moved to new proprietary 15-acre site located at the 6th km of the Komotini – Paradimi road. The new facilities cover an area 1190 sq.m., of which 220 sq.m. are used as offices and a showroom, equipped with modern technology for your best and quick service.
In 2013 the founder and owner of the company Georgios Xanthopoulos, with the second generation already by his side, handed the company reins over to his son Christos, whose dedication and skill continued the upwards trend that had been charted by his father, by entering the international market in 2016 with aluminium & PVC frames with a new name ARCH WINDOWS.